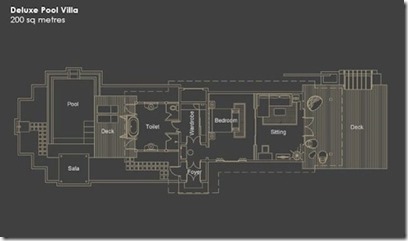 The biggest foot irritant has to be the "cost per square foot" (the gift and visitor can be greeted with is a low one). With the Room Type database getting quite "complete" now (73% complete on profile information and 46% complete on pictures), I can start doing some broader comparisons and analyses. I thought it would be interesting to see who had the best "cost per square foot" (or metre). Some resorts charge some expensive prices, but then they provide some extensive real estate to sprawl out in. Others are more value priced, but much more limited in space.
I had to break it out by star category to reflect the differences in services, amenities and often build quality that would simply make the lowest cost per square foot the cheapest overall resort (or close to it). Here's how they panned out…
All of these villas represent the "Garden Villa" category. Garden Villas are found off the beach front. Of course, the big ticket is the Water Villas completely over the water, and people typically want to at least be "by" the water for their holiday in tropical paradise. But, we've never been put off by the Garden Villa room type and have stayed in them on a number of occasions. If you are having trouble making ends meet on your budget, giving up how close your room is to the water always seemed like a good trade off to us. For starters, given the diminutive size of the islands, even the garden rooms are not that far from the shore. In any other country, they would probably be labelled beach front. Typically, they are a few dozen extra metres inland or simply have their ocean view impeded. Secondly, you simply don't spend that much time in your room. You are there to enjoy the beauty and fun the place has to offer. You mostly retire to your room for a nap or sleep at night. And you don't need great views when your eyes are closed anyways.