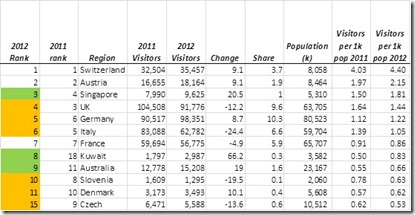 World Tourism Day today.
As the Maldives (and Kurumba in particular where the sessions are being convened) welcomes tourism officials from around the world to host the United Nations World Travel Organisations official celebration, it is an apropos time to take a look at the shifting concentrations of tourists from around the world. Much has been written about the rise of the Chinese visit numbers, but with over a billion in population, one would expect a fair number to be drawn to the Maldivian charms. But which country has the highest proportionate draw to the Maldives?
If you look at the most recent Maldives visitor numbers by country population, Switzerland is the big fan of the Maldives with 4.03 visitors per year per 1,000 of population. The closest rival in enthusiasm density is Austria coming in at less than half that number with 1.97 per 1,000 population. Perhaps not coincidentally, both of these countries are famous for their mountainous landscape. Maybe the population craves the low altitudes of the sea-level hugging islands.
As described in the earlier look at guest numbers, the shift in enthusiasm density tracks with the overall guest trends. Namely, the rise of the East (Singapore, Kuwait and Australia the biggest risers) and the decline of the West (UK, Germany, Italy, Slovenia, Denmark and Czech are the biggest droppers).