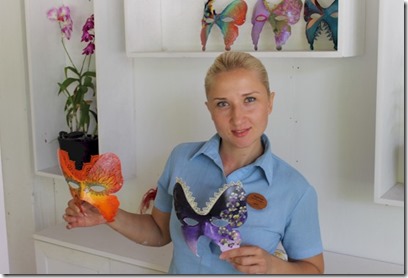 "I do pottery. I love it. It's very relaxing; it takes me to another planet." – Eva Herzigova
Some people think all you do in the Maldives is lie around in the sun all day. And some can't conceive of wanting to do anything that would require any effort. But another group of folks actually enjoy doing things on their holiday break. Time to do the things they don't get to do during their busy lives. And some of these "activities" can be quite relaxing in their own right.
One such activity is pottery. Especially, "throwing pots" on a wheel. The rhythmic rotation and the silky wet clay is reported as a very sensual and soothing experience. Perfectly apropos for a Maldives holiday. And the One & Only Reethi Rah has a full pottery studio. Set outside so one can enjoy the beach breezes while spinning or painting your creation, it even features a resident potter, Liliia Lapika Babych (see pictures) who provides classes and tutoring. The studio features pieces created by past guests as well as some of Lillia's work. You can also make Venetian masks and other items with all of the equipment for glazing, painting and other creative media.