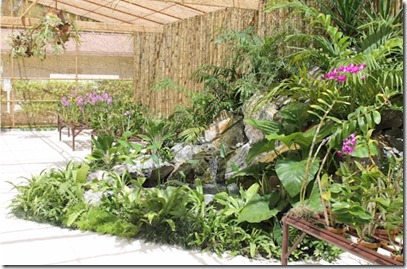 Another enclosure of vibrant colour is the orchid nursery at Kurumba. Except to hard-core horticulturalists, nurseries are often about as interesting as a pair of old wellies and a dirty spade. Usually, they are an example of the whole being less than the sum of the parts. In this case, the parts being hundreds of fragrant blossoms. But all packed into a tedious and cramped barracks.
Kurumba has turned this explosion of hue and scent into a feature itself. Not just by welcoming guests into it, but by investing in make the nursery itself a real attraction. The centrepiece is the water feature which is a dramatic fountain adorned will all manner of vegetation.
Horticulturist and Garden Manager, Upul Kumara, commented that the Orchid Nursery 'is completely natural and uses coir rope, bamboo and a pond with a waterfall has been used a centre piece of the garden. This will definitely be a new attraction to all our guests and not only that, the space will be suitable for a romantic dinner, a private yoga session or a relaxing stroll.' He added that in nature, orchids have humid environments with near-constant air circulation. The water pond not only adds beauty, but also helps take care of the orchids. For those who have enjoyed the nursery in the past, we are sure the renovation will be greatly welcomed. With the following addition we hope it imprints to guest a lasting impression on the varied experiences while seeing the Maldives in Full Colour at Kurumba.
Soon, the resort is going to start offering guest dinners in there. A delightful blend of culinary and floral aroma.
Kurumba is not alone in featuring bounteous blossoms and this post has convinced me to add a new category tag for "Flowers".