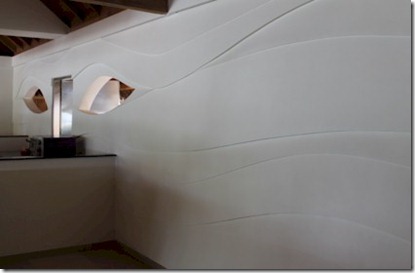 Celebrating International Women's Day today is probably the most subtle yet dramatic piece in the Maldives honoring women – 'Maafushivaru Eyes". The piece at the eponymous Maafushivaru resort is a sort of wall sculpture carved into the wall by the restaurant. It features two eyes with flowing lines off to the right (see above). Also the adjacent reflecting pool and jetty were designed to reflect other aspects of the feminine aesthetic.
The creative and inspired installation evokes a piece of art specifically commissioned for International Women's Day a couple years back – "Dhaalu Girl". Showcased in the "Cool Women" film project, also done to honour International Women's Day, the piece was painted by the exquisitely talented Aemii Musko. So impressed by this young Maldivian artist and her depiction of the feminine charm and power of the ocean, I purchased the piece and it hangs proudly in home now.
Here's to the power and creativity of women around the world.