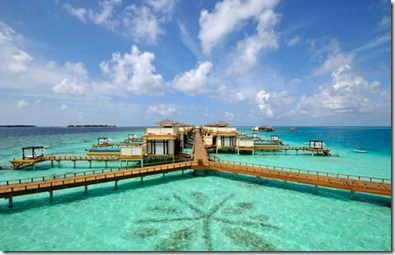 One of the favourite activities in the Maldives is looking into the water. In fact, you can't stroll down a jetty without veering right to the edge to catch a glimpse of all of the marine life scurrying about below.
Angsana Ihuru has added a bit of creative whimsy to this spectacle by their water villa jetties with a logo crafted from broken coral bits (see photo above). Yes, the natural beauty is stunning, bit I still think that there are plenty of opportunities for artistic creations underwater as well. Especially in the expansive tracts of sandy lagoons like here.
Packing Top Tip – I just got a polarising filter for my SLR camera which allows one to take pictures 'into' the water above it more effectively. A must for any camera buff visiting.