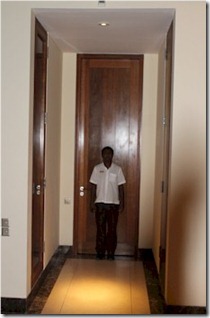 Check out the post the time on this entry. How cool is that?
Looking for something to mark this unique moment of '12', I've chosen Paradise Island's Haven Suite doors which are 12 feet tall. So are the showers. The drench showers do really feel like rain from heaven. In England, we moved to a converted barn just to get that vertical, cathedral-like spaciousness.
Big island means big stuff, The spaciousness is as vertical as it is horizontal in places especially The Haven Suites. Spa rooms were bigger than many gardens in the UK. And there were 15 of them. The spa seemed to go on for acres. And the spa entry itself had 3 distinct and distinctive water fountains with water cascading down.
I guess combined with their basketball supremacy and their super sized Haven Suites, Paradise Island is the also best for tall people.