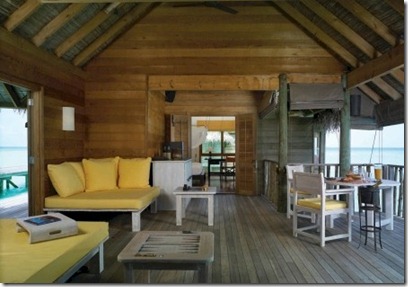 It's all about the fresh air. Breakfast by the water, morning snorkel/dive, lunch on the deck, lounging by the pool, stroll around the perimeter of the island, sunset pina colada, dinner on the beach, reading on the porch/deck, lying down on the sand for some star gazing.
We love spending as much time outside as possible on our trips. Dining al fresco is one of the great treats of the Maldives. One of my pet peeves at a resort is when I don't have the option to dine out in the open air with the sand in my toes (ie. if I'm stuck to some enclosed, hard-floor restaurant).
Gili Lankanfushi extends the al fresco vibe to your villa when you finally do return to it. The whole villa – lounge area and bathroom – are completely open air.
On the particularly hot days, you can retreat to the bedroom which is the only part of the villa with air conditioning. But the even the doors are louvered so you can use natural sea-breeze AC in all but the most scorching days.
Fresh!