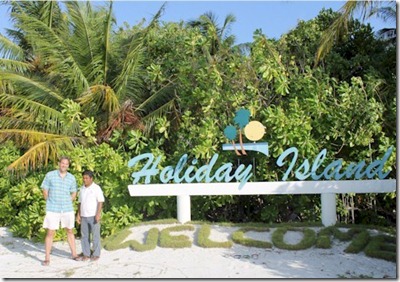 Old school charm.
So many decry the onslaught of the billionaire playground super-premium marque resorts into the Maldives. The Maldives veterans miss the days of straight forward thatched roof bungalows in the middle of paradise without a lot of fuss. Especially, if that fuss is going to drive the price up to prohibitive levels. Holiday Island has not gotten caught up with the latest trends in drench showers, over water spas and nouvelle cuisine restaurants. Most importantly, they remain part of the endangered species of resorts where you can get a week full board for under £1000. Many of the super premiums charge that per night.
They also have set all of the villas and infrastructure behind natural greenery which means that from the beach or off-shore, the island looks like an undeveloped deserted island. The only hint of human activity is the boat jetty. As a result, walking around the island (a nightly sundown ritual for our family) or lounging on the beach provides a 100% natural vista.
While I was visiting Sun Island, it seemed a shame not to drop in on Sun's commercial and geographical sibling. I found that nostalgia and budget isn't the only reason to consider Holiday Island. As with all of the Villa resorts, they have a resplendent Araamu Spa which sprawls across nearly an acre with big outdoor treatment areas and decorated with some of the most elaborate fountain-work in the Maldives. They also have not one but 2 golf simulators.