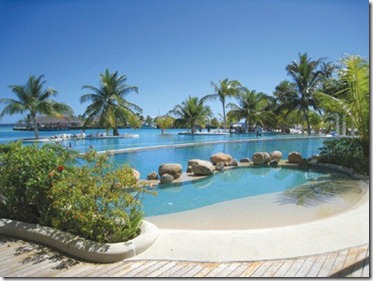 There are all sorts of people distinctions. Dog people and cat people. Lake people and ocean people. Sail people and motorboat people. Beach people and pool people.
If you prefer a pool as expansive as Landaa's beach, then Kandooma is the resort to head to. Now, like the many Maldives lagoons it sort of ressembles, much of the pool is quite shallow. As a result, it makes for an ideal play area for young children.
Kandooma's pool comes in at 65 metres by 73 metres for a total area of 4,745 square metres. Kanuhura's pool covers 120 metres by 67 metres, but in actually aquatic area, more than half of those distances are various sinuous twists and squirms rather than full water area.
Pool is so big that it has two of its own island with lounge chairs. With Kandooma's signature giant beach towels, you could also say that Kandooma is the 'Best for Paul Bunyan to Take a Dip.'