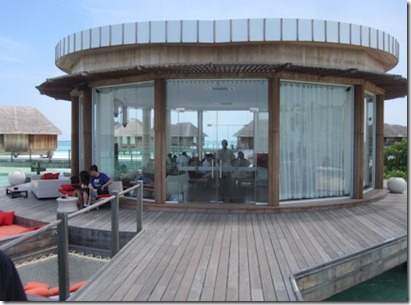 Sometimes a 'Best Of' involves no particularly unique ingredient, just assembling the pieces in a distinctive way. That is how I felt about another lounge on the water, Club Med Kani's 'Manta Lounge'. It is part of their '5 Trident' luxury water villas area.
On face value, there is not much there that you wouldn't see in one form or another especially at the higher end resorts. But something about the execution impressed me so much that I imagined if I was staying at Kani (I was only there one day), then I would probably spend a fair amount of time at Manta.
Despite being enclosed, it has a nice, airy and open feel to it. But the enclosure has lots to appreciate…
Shielding from the rays when you've had lots of sun.
Air conditioning when you had lots of heat.
Wide variety of seating when you've had lots of beach loungers.
Wifi when you've had lots of time away from web surfing.
Easy access to refreshments on offer when you have lots pangs of hunger and thirst.
Many resorts have enclosed lounges and libraries, but most of the time they are sequestered by reception with little view and buried in the main complex. Lots of resorts have sitting areas out on jetties, but most of the time, they are uncomfortable wooden bench with a modest palm canopy. The Manta Lounge was the best of the jetty rest areas combined with the best of the reception lounges.
As a bonus, they had the overwater hammocks which are lots of fun and comfy, but mostly I have seen them as features on private water villas and not available to the general guest population.