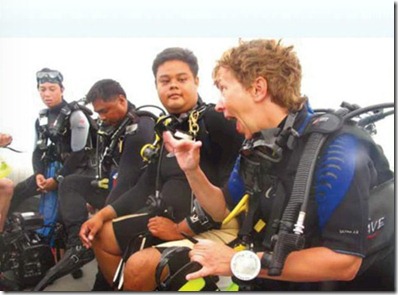 In honor of Dhivehi Language Day yesterday, we feature a post on a universal language. One familiar to speakers of all languages who dive in the Maldives.
Diving is probably most people's first introduction to actually using sign language. That is except for the hearing impaired, of course, for whom the underwater world is just as east to converse in as above water. Worldwide Dave and Sail offers a range of diving holidays for the deaf and this week takes them to the Maldives for a wide ranging itinerary including a stop at the Kuramathi house reef.
"Ever wanted to take the plunge, but you have been unable to take that giant leap because you are D/deaf or hard of hearing? Do you find it hard to understand instructors in big classes? FRUSTRATED?? Not anymore… Welcome to Worldwide Dive and Sail where your worries will disappear. We use a wide range of communication methods to ensure that everyone can understand and participate; these being: BSL, ASL, lip-speaking, gestures and fingerspelling. We aim to accommodate everyone, whatever their communication needs are! Please note, however, that all our trips will be a mix of D/deaf, hard of hearing and hearing people."
The trip goes from 18-28 April and includes Male, Rasdhoo, Ari,Thaa, Nilhande and Laamu atolls.
If you would like to enhance your silent vocabulary of underwater words, then I highly recommend Scuba Hanna's YouTube channel which is the most complete collection I have found. She does an entire 3 minute video on just different signs for different species of shark, and all sorts of fish I never knew the signals for like angel fish, and clown fish.