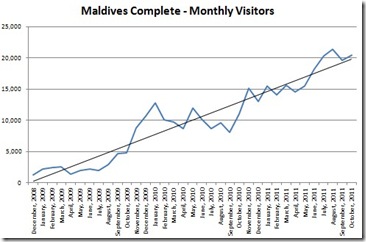 Happy 3rd Anniversary to Maldives Complete!
Three years ago today I pushed the button which loaded the Maldives Complete code and material live to the web. That entire first week, after emailing all my friends, the site got a mere 186 visits and 1,147 page views. Just yesterday alone, Maldives Complete welcomed over 1,000 visits and delivered over 3,000 page views.
It's come a long way not just in popularity, but in usefulness and comprehensiveness. I've extended the 'Best Of the Maldives' categories. For example, I broke 'Geography' into 'Location' and 'Landscape'. Also, Surfing is emerging as such a prominent activity there, that I have split that out in the Sport section. I also added the Chinese version which has pushed China up the visitor tally to #2 behind the USA. I had my longest research visit ever in July spending 17 packed days ferreting out all sorts of gems to share with readers. The top photographer of the Maldives, Sakis Papadopoulos, has graciously offered the use of his stunning photos on the site which has upgraded the look of the pages where I have been able to incorporate them so far.
And there is lots more coming very soon. I have a new 'Room Type' database which will have both Profiles and a Finder search capability not just on 'Resort', but the Room Types offered (eg. "Jacuzzi Water Villa", "Deluxe Ocean View", "Super Deluxe Aqua Villa"). I also have one of my favourite projects of the year, the 'Snorkel Spotter'. Watch this space.
Thanks to everyone who has emailed me such kind words about the site and many times contributed great ideas, updates, material and support.