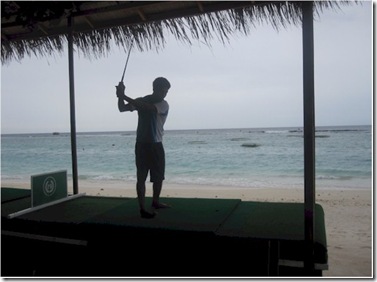 This week marks my 6th anniversary of blogging. I actually first cut my teeth on digital media a number of years prior to the launch of the Maldives Complete blog. I first started writing about "Leadership and Management / Turning Adversity to Advantage." The traditional anniversary gift for 6 years is 'iron',' so I guess the best place for me to go to celebrate my 6th anniversary would be somewhere I could get out a few 9-irons to practice my swing (not to mention a timely USA's win this weekend in the President's Cup).
While Meeru has a conventional driving range (with an adjacent executive course) and Kuredu has 3-par course, Palm Beach has taken the concept 'out' a bit. You also might have heard all of those fantastic stories about the proposed floating golf course. Well, Palm Beach has taken the first steps with a 'floating driving range'. Bobbing mini-greens with flag anchored in the lagoon provide distance markers for a driving cage set up on the shore side.
In so doing, Palm Beach has also created the world's biggest water hazard. Lest you fear that all of those golf balls should prove a hazard of another sort to marine life, actually the balls are specially made of biodegradable material which breaks down into fish food after 48 hours in the water. You can get 10 for $2, or 100 for $8.
The golf centre also features golf pro Alberto (featured in the picture at top) who will help you on your swing and there are several putting green holes to practice your short game.
Fore!