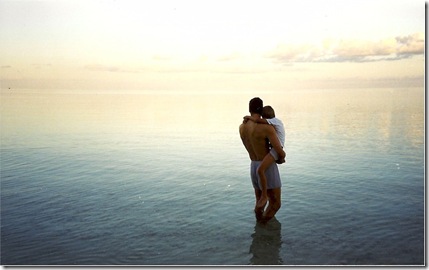 The upcoming 'Times Travel Photo Competition' and the incorporation of the some of my favourite pictures of the Maldives by Sakis evoke own favourite pictures. The photo above is not just one of the my favourite photos we have taken in the Maldives (taken by my wife Lori), but one of my favourite photos of all time. It captures the peace of experiencing the embrace of loved ones and the sanctuary of a cherished place and moment.
The picture was taken on the very last day of our very first trip to the Maldives. We visited Laguna Beach (now revamped and relaunched as Velassaru). My wife Lori was up early with anticipation and too soak up the last little bit of paradise. Sitting at shore's edge at sunrise, she glanced up to see two manta rays gliding slowing by in the lagoon. She rushed into the villa and roused me and our son Chase from our slumber to come see this magnificent treat. We missed the mantas, but we nonetheless treated to an array of other marine life scurrying about their dawn activities. I held Chase in my arms and we soaked up the moment that lives with me forever.
The picture is also an illustration of advice for family snappers that we now give with authority to young families in our veteran positions of empty nesters. When the kids are gone, we have piles of pictures of all sorts of special occasions – birthdays, holidays, performances. But what my wife and I reminisce about most are the simple, mundane, every day memories. "Do you remember how Chase always used to do…?" So the photographic advice is to 'capture the everyday'. And the corollary to that rule is 'capture affection'. Much as the special occasions were important at the time, what we miss most, and hence what images we savour and like to recall most, are those weekend morning cuddles, those welcome-home-Daddy wild abandon hugs, and holding joy in your arms on a quiet morning.
I've now started a Flickr stream for my favourite Maldives pix and have uploaded a few to start. The other one (shown below) is of a Blue Surgeon fish school. I love the colours and patterns of the Maldives. The Blue Surgeon fish is for many the aquatic mascot of the Maldives. The variegated blues offset by the streak of sunshine yellow seems to capture the Maldivian landscape in their little marine bodies. In fact, the Bleu Surgeonfish is the inspiration for the colour scheme to Maldives Complete.