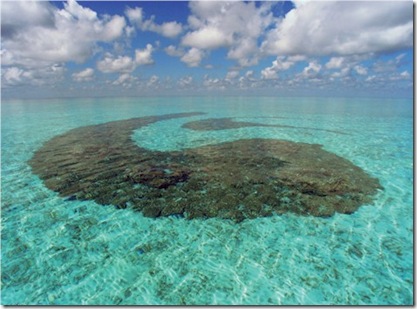 While the 'house reef' is the 'main event' in snorkelling, lagoon snorkelling can be its own treat. During our first, uninitiated trip to the Maldives, we spent nearly the whole week there delightedly snorkelling among the modest coral and rock croppings in the shallow, sandy lagoon. We didn't even know that there was such a thing as a 'drop off'. We still enjoy the charms of lagoon snorkelling with some real highlights in our history – a playful octopus, a digging sting ray, a passing manta, and a whole host of turtles and fish.
If you can't get the snorkelers to the reef, bring the reef to the snorkelers. Often the main problem with house reefs are their accessibility. Eventually, you can get to a drop off point, but you have swim over long expanses of relatively boring white sand. So as a part of its award winning reef regeneration efforts, Four Seasons Landaa Giraavaru has taken a creative twist on reefs with what can best be described as 'reef topiary'.
Its showcase piece is the Yin-Yang Coral Garden pictured above. From an aerial view, the coral forms a yin-and-yang symbol. The resort is now planning an encore with a 'Crescent Moon' in the works.