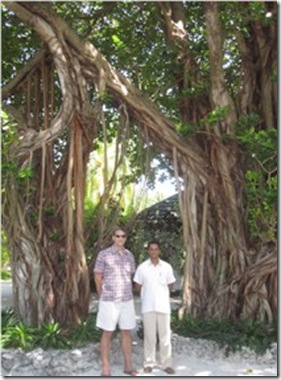 Hudhuranfushi cultivates many treats from its size.
Immediately on arrival, the staff managers provided a quick briefing to everyone about the island. I really appreciated this welcome because it helped me to get oriented less stressfully. Often when we arrive, we have to wait for an evening drinks orientation and until then we are a bit at loss as to what we should do or plan. Sitting with a lovely drink after a day of travel was smart timing for this introduction. This care to provide a helpful welcome is even more extensive for the water villa guests where they have developed a welcome dock and room at the end of the villa jetty.
Hudhuranfushi is yet another fairly large island and my first question to Patrick De Krester (see photo above) is 'what does the extra size get you?' as a guest. Some people feel that you lose some of the 'tiny island' experience. Patrick really had some of the best answers of my week seeing many big islands. First, the long seafront contributed to one of its distinctions as one of the best 'left hand break' surf sites in the world (more on that in a later post). Also, the interior of the island was rich in mature and diverse tropical trees which created a towering canopy over many of the sand paths. Finally, the very centre has a bountiful food garden that you can tour. In fact, I would call it more of a plantation. Obviously, as a result, the island restaurants make plentiful use of the extensive array of home grown produce.
As it happens the General Manager Asim Mohamed has a particular interest in the culinary side as he first cut his teeth in 'food and beverage' operation when he entered the Maldive tourism industry in its earliest days. He has decades of experience and despite numerous assignments and bountiful opportunity to travel and work just about anywhere in the world, he can think of no better place to be than the Maldives. Drinks with him in the evening was a history lesson in the development of tourism in the Maldives.
Asim gave me a real appreciation for the great work that the resort staff and management do. Unlike most resorts in the world, one is not just running a guest and property operation, but you are running a mini-society. Even small islands like Fiji and Bora Bora have access to the national grid, sewage, supply chain, water supply, local labour force, etc. In the Maldives, the resorts are virtually self-contained: their own power generation, sewage treatment, water desalinization, mini-town for staff to have a reasonable life away from work, special supply considerations.
Hudhuranfushi has the substance and experience to make turn its size to advantage in many unsung and satisfying ways.