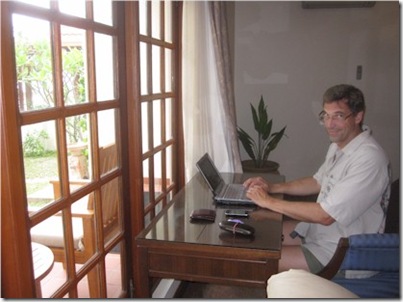 What is most common question I get from folks at resorts when I visit?
What's my favourite resort?

What do I enjoy doing the most in the Maldives?

How many times have I visited?
Nope. By far the most prevalent question is 'Why do you do it?' Or most specifically, 'Maldives Complete is obviously the result of tons of work, but you don't make any money from it so…why do you do it??' The bigger the fan of the site, the faster the question comes up. The home page and About page both have brief comments on my motivations, but they do focus more on my 'aspirations' than my 'motivations.'
For all those head scratchers out there, here are my top reasons I keep ferreting out the data and pounding out the posts…
Blogging Fun – One of the most time intensive and most highly trafficked part of Maldives Complete is the

blog

. This is not my only blog. I also write on the subjects of '

Leadership and Management'

, '

Embracing Failure'

, '

Dynamic Work'

and

'70-20-10 Principle'

. All of those are non-commercial too (as most blogging is). Not related to my day job, no advertising or other remuneration, not selling anything (though I used to sell consulting services around Dynamic Work). On the occasion of my 600th Leadership/Failure post, I wrote a piece '

600 Posts Later'

which explained some of my motivations such as iterative improvement, serendipity, purge and process, and handy reference trove all of which apply to Maldives Complete.

Non-Zero Chance – As an elaboration of the 'serendipity' motivation mentioned above, I later wrote a piece called '

Non-Zero Chance'

which picked up on Dilbert creator Scott Adams' explanation for his own extensive blogging. He said 'I make it a habit to have at least one project brewing at all times that has a non-zero chance of changing the planet, or making a billion dollars, or both.' Admittedly, the chance of Maldives Complete changing anything or making a dime is miniscule, but it is like a lottery ticket that fuels a bit of 'just maybe' fantasy that someday it might turn into something really special.
Participate, Not Spectate – I love sports, but to play them not to watch them. I play in a

basketball league

,

coach and row sculls

, train at the gym and running. But the latest sport event I watched was years ago. I just prefer to be in the action than watching it. My involvement with Maldives Complete means that when I visit the Maldives, I am not just a visitor here for a few days, soaking up the sun, sights and savouries. I get under its skin. I meet people I otherwise wouldn't meet and see things I wouldn't otherwise see. I explore it and then participate in it by promoting it.

Perks – Now that Maldives Complete is a serious web site (some authorities on the topic tell me it is the top independent web site on Maldives), the resort owners are interested in helping me with my efforts as they would any publicity. Most resorts have standard protocols for providing 'media' with certain 'comps' and discounts. I wouldn't be able to do what I do without the support of these concessions. It's no 'free holiday'. First of all it's not free. We spent more money on our most recent trip than if we had simply booked a simple package (because we had such a chopped and changed itinerary). Secondly, it's not exactly a holiday. Each day we pack up to move to yet another resort to visit, I take a tour, I take photos, I take notes, I write pieces, I meet with people. Very little of the typical lounging by the pool.
Transport Me Away – When I am sitting in my den on a dreary, drizzling, chilly British day (as I am right now!), and I bring up Maldives Complete or some email from resort marketing manager sending me some fresh resort photos, and I feel transported away to this tropical paradise at least in my escapist fantasy mind.
World Community Service – I come from an upbringing of community service. My father was a

clergyman

and my mother ran a

community centre

. Maldives is a strong and vibrant nation, but it is still growing and has lots of development to do for its citizens to achieve higher living standards by conventional measures. Furthermore, the Maldives is on the forefront of driving environmental awareness and changes so supporting the country helps support that cause too. Maldives Complete is a small contribution to help more people find out about the Maldives, visit there to spend their money, and help build the country.

Purple Cow Evangelism – I'm a big fan of Seth Godin and especially his notion of '

Purple Cows'

– 'remark-able distinctions that unpin all great marketing.' Maldives Complete is both a chance to practice what I preach and promote the concept (through the

Best Of

) section.

Hobby – Maldives Complete is my hobby. I enjoy technology and coding the web site. I enjoy writing. I enjoy the subject matter. One person commented, "It's an expensive hobby." To which I replied, "Many hobbies are. Car restoring, skiing, collecting." And my wife added, "And I'm delighted that his hobby is the Maldives rather than something like golf."
Ego – Like most creators and their creations, I am proud of Maldives Complete. Though not perfect, many of the things I've pulled together with the site and how I've done them. I do get a small buzz when the Aquest Stats shows that it has hit a new high for visitors. But the biggest thrill when someone takes the time to email me saying how much they loved the site and how helpful it was for them planning their Maldive vacation. And that fan mail is coming more and more frequently these days.
In other words, you might say that 'I have my reasons…'