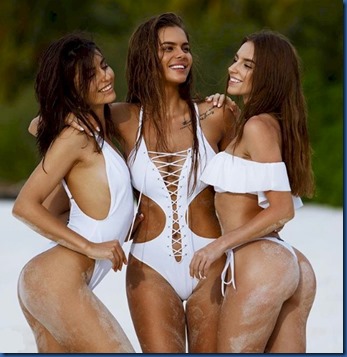 Viki Odintcova, Irina Dreyt and Galina Dub all Instagramming from Reethi Rah last month
"Anantara Kihavah Maldives Villas Voted Most Instagrammable Hotel in the World" according to Luxury Travel Advisor. That the Maldives tops is the world in photo blogging is no surprise. Nor is the selection of Kihavah in the online poll. It's one of my favourites and its sparkling white necklace of talcum soft beach plus the combination of upper deck elevation at its "Sky" bar and the undersea perspective of its "Sea" restaurant provide a wealth of Kodak Photo Spots to selfie from.
But opinion polls are notoriously inaccurate especially online ones. All sorts of biases and skews come into play. So a more interesting question is "What is the most Instagrammed resort?" At least in the Maldives, the Maldives Complete fashionista database has some pretty comprehensive information applicable to this question. Tracking the top fashionshoot models, travel bloggers and celebrities and their Instagram posts for two years now, I have some pretty solid data about which resort attracts the posts with the most Followers.
There are two different parameters we can look at with the data available:
Most Instagrammers – One & Only Reethi Rah: Which resorts have attracted the most Instagrammers (prominent ones which are usually over 10,000 Followers as a cut off). Reethi Rah maintains its long established distinction as a top haven for celebrity guests. It rises above the others in that it is the only resort to have a top 5 spot in both "Instagrammers" and "Instagram Followers" (#4).
Most Instagram Followers – Velaa: Which resorts have attracted the most aggregate Instagram Followers (based on the Instagrammers who have posted from there). Velaa snatches the top spot primarily on the strength of Jennifer Lopez' 69m Followers. But even without JLo, Velaa would still command a medal position 3rd place. Given that Velaa (and Cheval Blanc Randheli) make a top 5 with a very modest number of Instagrammers in total indicates that they are a lure for the big hitters.