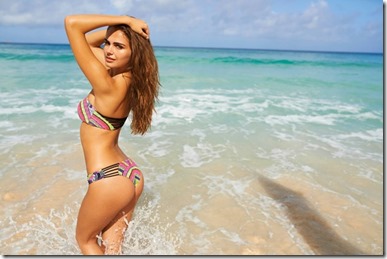 London Fashion Week once again. And this year marks the anniversary of launching Maldives Complete's own coastal catwalk. It seems like the photoshoots are just exploding with the Instagramming at its zenith. As wannabe fashionistas queue up for a place in the Maldives Complete catalogue, we thought we would provide a bit of guidance for winning poses.
The snaps chosen are all about the photo itself. A high profile subject will tip the balance (for a sense of magnitude, I will include even bad photos of celebs with over 1 million followers, and I will include just 'okay' photos for those with over 100,000 followers), but outside those elite echelons, someone with a great shot but only a few followers will get selected over a run-of-the-mill travel blogger with 10k followers and bland pictures.
The recent photo tips post outlined the fundamentals for posing anywhere in paradise. But I also have a few Maldives specific biases. One of my big selection criteria is the "Anywhere But Maldives" deal breaker. If a photo looks as if it could be from anywhere (even if I know it was in the Maldives), I tend to exclude it. Dining tables, indoors or extra close-up shots are all examples. The photo needs to have some Maldivian quality about it for the Maldives Complete collection. Along this line, I favour the natural blue colour scheme so photos rich in blue and aquamarine hues get favoured for bringing out the local palette.
To assist all those aspiring paradise photoshooters, here is the Maldives Complete Guide to Paradise Posing (and yes, we have collections of each of these, those published are linked to below)…