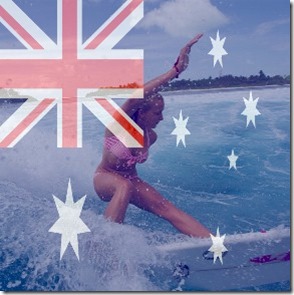 Happy Australia Day, mates! There seems to be a rash of "National Days" in the Indian Ocean this particular week (India National Day is also today). So, a chance to celebrate the Australians who have flocked to the Maldives. You would think that Australia would have enough sunshine, but even the Diggers dig this paradise.
Australia is especially prominent country in the #Maldives digiverse. While it ranks only 14th in terms of visitor numbers, but when it comes to the Maldives Complete social media database (models, athletes, celebrities, bloggers), it's chockers with Wallabies coming in 4th (behind Russia, UK and US). What's not surprising is that the Aussie-pedigreed resort, Amilla Fushi, is the most popular down under – 3 of the highest 7 ranked Australian digi-personalities visited there.  Mind you, the two countries do share a fair bit in common – extreme island nations (one the world's largest and the other the world's smallest islands), big surf culture (3 of those featured are surfers), and the biggest coral reef system in the world.  Not to mention the ubiquitous sunshine and effervescent demeanour of the people.
May your national day be as ripper as the togs you snap.
2.
Laura Bingle
– One & Only Reethi Rah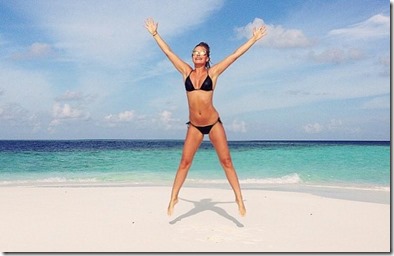 11.

Sarah Stephens

– Coco Palm Dhoni Kholhi

13.
Amanda Bisk
– Four Seasons Landaa Giaavaru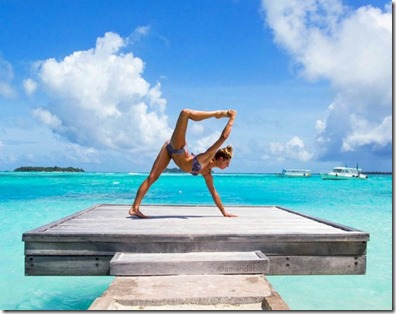 14.
Gabby Epstein
– Loama Resort Maldives at Maamigili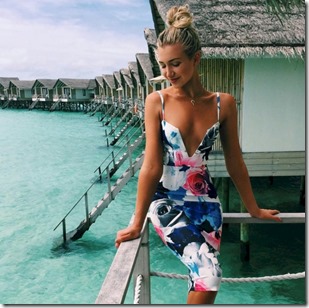 17.
Steph Claire Smith
(Australia) – Adaaran Hudhuranfushi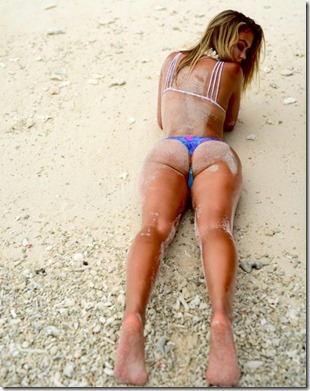 18.
Georgia Fish
(Australia) – Four Seasons Kuda Huraa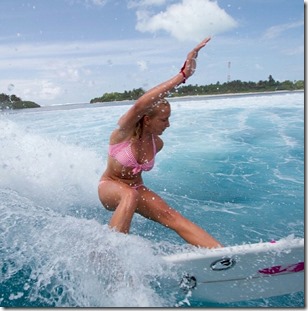 22.
Elle
– W Retreat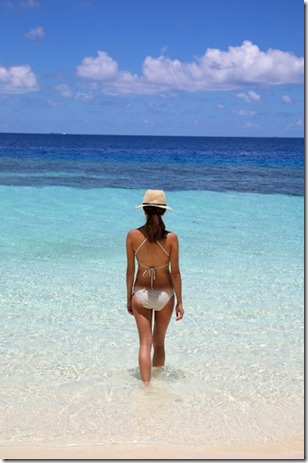 23.
Karina Irby
–
Adaaran Hudhuranfushi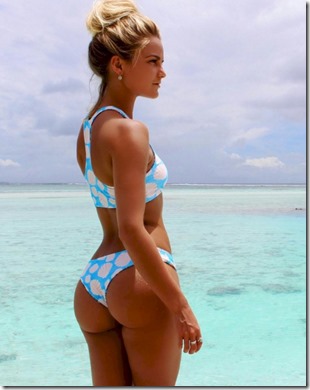 24.
Kat Harding
– Four Season Kuda Huraa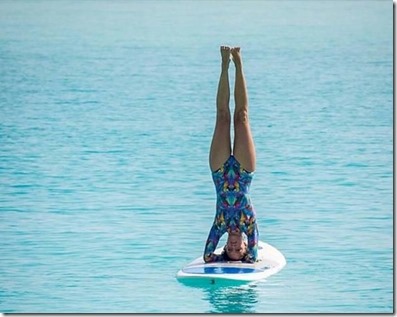 27.
Pippa
– Gili Lankanfushi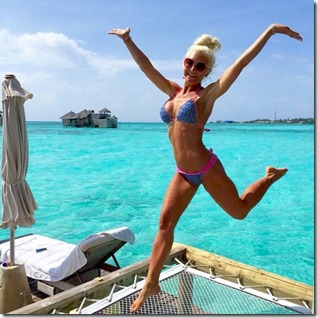 | | | | | | | | |
| --- | --- | --- | --- | --- | --- | --- | --- |
| | Name | Resort | Primary | Total Points | Instagram Followers | Twitter Followers | Facebook Likes |
| 1 | Jennifer Hawkins | Amilla Fushi | Model | 17 | 628,000 | | 1,107,000 |
| 2 | Laura Bingle | One & Only Reethi Rah | Model | 16 | 435,000 | 3,182 | 201,000 |
| 3 | Natalie Tran | LUX Maldives | Blogger | 16 | 66,600 | 235,000 | |
| 4 | Shanina Shaik | Anantara Veli | Model | 14 | 508,000 | 35,000 | 40,123 |
| 5 | Ricki-Lee Coulter | Conrad Rangali | Actress | 13 | 159,000 | | 31,000 |
| 6 | Nicole Warne | Amilla Fushi | Blogger | 12 | 1,300,000 | 29,700 | 320,000 |
| 7 | Erin Victoria Holland | Amilla Fushi | Model | 10 | | 5,853 | 654,000 |
| 8 | Jasmin Howell | Six Senses Laamu | Blogger | 10 | 192,000 | 10,300 | 11,523 |
| 9 | Jessica Stein | W Retreat | Blogger | 10 | 1,800,000 | 35,700 | 7,958 |
| 10 | Niki Van Dijk | Maalifushi | Athlete | 10 | 185,000 | 3,012 | 21,415 |
| 11 | Sarah Stephens | Coco Palm Dhonakuni | Model | 10 | 24,700 | 2,006 | |
| 12 | Shiralee Coleman | Anantara Dhigu | Model | 8 | 204,000 | 615 | 23,510 |
| 13 | Amanda Bisk | Four Seasons Landaa Giraavaru | Yoga | 6 | 485,000 | | 22,000 |
| 14 | Gabby Epstein | Loama Resort at Maamigili | Model | 6 | 1,000,000 | | |
| 15 | Jean Carmela | Maafushivaru | Blogger | 6 | 4,496 | 3,409 | 11,458 |
| 16 | Sophie Rose Leisk | Shangri-La Vilingili | Blogger | 6 | 11,400 | 598 | 100 |
| 17 | Steph Smith | Adaaran Hudhuran fushi | Model | 6 | 862,000 | 4,501 | |
| 18 | Georgia Fish | Four Seasons Kuda Huraa | Athlete | 5 | 4,810 | | 22,072 |
| 19 | Chontel Duncan | Meeru | Model | 4 | 165,000 | | 5,851 |
| 20 | Victoria Lee | Six Senses Laamu | Model | 4 | 22,600 | | 5,063 |
| 21 | Adriana Jennings | Maalifushi | Blogger | 3 | 4,241 | | 155 |
| 22 | Elle | W Retreat | Blogger | 3 | 652 | | 295 |
| 23 | Karina Irby | Adaaran Hudhuran fushi | Model | 3 | 147,000 | | |
| 24 | Kat Harding | Four Seasons Kuda Huraa | Yoga | 3 | 8,267 | 101 | |
| 25 | Maddison Clare | Centara Ras Fushi | Model | 3 | 2,435 | | 100 |
| 26 | Margaret MacPherson | Club Med Finolhu Villas | Model | 3 | 5,834 | 87 | 1,624 |
| 27 | Pippa | Gili Lankanfushi | Model | 3 | 14,900 | | |
| 28 | Renee Henderson | Filitheyo | Model | 3 | | | 5,793 |
| 29 | Maddie Cox | Anantara Veli | Blogger | 2 | 3,642 | | |
| 30 | Melanie Kyle Oldenburg | Olhuveli | Model | 2 | 5,410 | | |