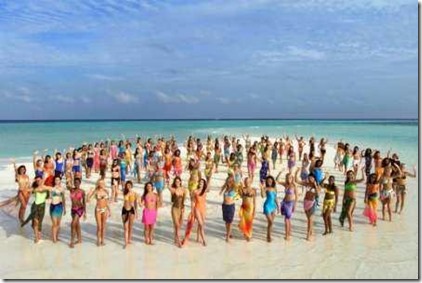 [Miss World 2010 posing in group shot on Paradise Island]
Maldives is not only one of the most beautiful places on Earth…it is also like a beacon of beauty attracting the most ravishing to its shores. It has long been established as a go-to back drop for the most glamorous photoshoot by the likes of Miss Universe, Top Model, Sports Illustrated, Victoria's Secret, Elle, Marie Claire, etc. So much so that in 2000, it hosted part of the Miss World competition itself (photo above).
I first featured the Maldives as a photoshoot fav back in 2010 with a post about the Miss France competition which came all the way there for their bathing suit competition. Elegant and stunning models have since showcased the Maldives in everything from Four Season's turtle conversation programme to the mythic Sports Illustrated Swimsuit issue (which has been shot in the Maldives 3 times now). In fact, one of the most distinctive and stylish resorts, Soneva Fushi, was in fact co-created by a former model, Eva Malmström, who is the "Eva" in its name "SonEVA Fushi" (see photo directly below).
This week is London Fashion Week here in the UK…But in the Maldives, EVERY week is fashion week. From the chic villa designs to the sumptuous flora above the water and below, and of course, the most glamorous glitterati of guests. To prove the point, I've assembled 52 (one for every week of the year) of the most prominent visiting beauties, from 40 different countries and 48 different resorts that have graces the shores of the Maldives resorts. All the beauty in the world is drawn to this epicentre of dazzling sights.
(thanks to all the resorts that assisted in my research with publically available photos and to Adrian Neville for his eagle-eyed spotting of unidentified resorts in various published pictures).
25. Jessica Cabensy (USA) – Anantara Kihavah Villas

41. Annabella Barber (New Zealand) – Six Senses Laamu